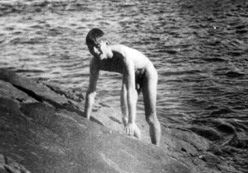 Alan Turing on Sark, 1931
Surf with the
ALAN TURING
INTERNET SCRAPBOOK
A Virtual Tour of Alan Turing
To read the basic story of Alan Turing, you can follow the short on-line biography, written in the traditional style of the British Dictionary of National Biography.

This Scrapbook is completely different. It is roughly chronological in order, so you can use it to follow the story of his life and work. But it is designed to exploit the interactive and co-operative world of the Web as created by Alan Turing's invention, the computer.

Please report dead links and suggest new ones!