---
The Turing Archive

The Turing Archive, the most important collection of Alan Turing's papers, is held in the Modern Archives Centre at King's College, Cambridge.

The King's College archivists have prepared a summary of the Turing Archive.

Much of the cataloguing work was done in the 1970s by the Contemporary Scientific Archives Centre which also offers much archival information on other British scientists.


The Modern Archives Centre,
King's College, Cambridge

The Turing Digital Archive

Much of this collection of papers has been scanned or photographed to a high quality by the Intelligence Agents Multimedia department at Southampton University.

Since June 2000 the material has available on-line as the Turing Digital Archive.

This material is presented in an archival format without much editorial comment, although there is a search engine.

The Turing Bibliography gives pointers to all the scientific papers.

Jonathan Swinton's guide to the morphogenesis manuscripts should be used.


Jonathan Swinton,
then a Fellow of King's College,
shows the new Digital Archive
to guests of the
Turing/Keynes event, 24 June 2000.

Proceed to the Turing Digital Archive:


He is a leading scholar of Turing's
morphogenesis manuscripts
in the Archive,
one of its most important aspects.
---
---
Photographs of Alan Turing
There are very few photographs of Alan Turing taken after his boyhood. There are two good snapshots of him as a long-distance runner, well illustrating his informal character, dating from 1946-7. You can see them on this Alan Turing Internet Scrapbook Page. As far as anyone knows there are no copyright restrictions on the use of those two images.

These pictures and about twenty further images of Alan Turing, mostly in his youth, are in the Turing Archive at King's College.

If you are searching for pictures of Alan Turing to illustrate a publication, you should go to the Digital Archive site and follow the instructions there for obtaining copies. The photographs are on this page.

However the portrait photographs are not yet available on-line, I believe because of the copyright issue (see below).
The portrait photograph on the right was taken at the time of Alan Turing's election to a Fellowship of the Royal Society in 1951. There is another one, taken at the same session but in a slightly different pose, which was used by the Royal Society for illustrating the Biographical Memoir of Turing in 1955.

You will find that these portraits have frequently been reproduced on the Web, but the copyright of them belongs to the National Portrait Gallery, London.

In 2009 the National Portrait Gallery included Alan Turing's portrait in a special exhibition of Gay Icons. It was chosen by Lord Chris Smith, who had also made a notable statement about Alan Turing in 1998.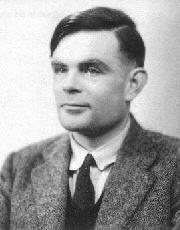 ---
Continue:
---